This podcast is the narrated version of my article 3 Techniques for Good Grief Counselling.
A bereaved client may be feeling they can't have any meaningful existence without their deceased loved one. Our job as therapists, counsellors and psychologists is to help reduce the impact their grief is having on them so they can begin to participate in life again.
In this episode I talk about:
Why it's important to let them talk about the deceased
How to distinguish grief from trauma and what to do about trauma
Helping the client deal with guilt and organize their grief so it isn't so all-encompassing
Or watch this episode of the podcast on video below:
Subscribe to Mark Tyrrell's Therapy and Counselling Tips Podcast
Twice a week, Mark reads one of his therapy tips articles and occasionally discusses psychology-related topics.
Listen & Subscribe to Clear Thinking Out Loud here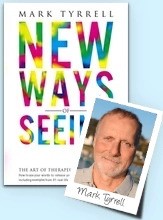 FREE Reframing Book! Just subscribe to my therapy techniques newsletter below.
Download my book on reframing, "New Ways of Seeing", when you subscribe for free email updates