This podcast is the narrated version of my article 10 Therapy Questions to Get to the Root of the Problem.
The idea here is that before assuming something's seriously wrong with our client, we should assess they are meeting the Primal Human Needs we all share. When we find what needs aren't being met properly, that can guide us in our therapeutic strategy.
In this episode I talk about:
To function well, certain basic needs have to be met, and there are other needs than just the obvious ones
How to check your clients' fuel levels, and what to do if they're low
Why 'small talk' can yield big discoveries and what to do with those
Or watch this episode of the podcast on video below:
Subscribe to Mark Tyrrell's Therapy and Counselling Tips Podcast
Twice a week, Mark reads one of his therapy tips articles and occasionally discusses psychology-related topics.
Listen & Subscribe to Clear Thinking Out Loud here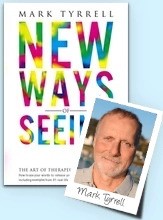 FREE Reframing Book! Just subscribe to my therapy techniques newsletter below.
Download my book on reframing, "New Ways of Seeing", when you subscribe for free email updates