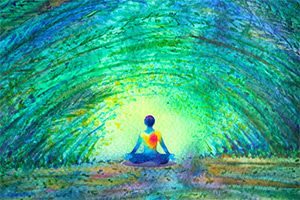 "In therapy you focus attention to where it should be focused."
– Milton H. Erickson, M.D.
"It's [expletive] agony!" Bill almost cried.
He had been suffering intense back pain for six months following an accident at work.
"And what's more, I feel like a fraud, Mark! The docs can find nothing wrong with me. They say there is no reason for my back pain! And yet I can't sleep, walking is painful, and as for standing up from a chair… it feels like a knife tearing up and down my spine."
Such was this man's misery. I was determined to help him any way I could.
Pain takes over everything
Have you ever noticed how, when you are in pain, nothing much else matters? The soaring, searing, lacerating, burning sensations become all-consuming. When I've been in acute pain I've sometimes marvelled at how I usually take not being in pain for granted.
Hypnosis has a long history of being used effectively for pain control.1 I have learned through self-hypnosis to control my own pain, at least to a good degree. And I have worked with countless clients wanting to control their pain. Occasionally hypnotic work can even dissipate a client's pain completely, as when we use it for surgical anaesthesia.2
Basic hypnotic pain control methods
Bill was extremely motivated to use hypnosis. "I'll try anything!" he told me, with more than a little desperation in his eyes. I used the following methods:
Reframing pain into colour, temperature, and numbers
Distraction
Dissociation
Hypnotic anaesthesia
Evocation and revivification (regression back to pain-free, comfortable times).
What's more, I taught him to apply these methods for himself until such time as the pain began to fade for good.
If you want to explore hypnotic pain easing interventions, check out this article, where I describe the above techniques in detail.
But here I want to focus specifically on the use of mindfulness when treating pain. I'm talking about all pain, not just back pain. Mind you, according to one report (albeit based on data collected in 2000), some 16 million adults in America – 8% of all adults – report persistent and chronic back pain, which greatly affects the quality of their lives.3 An astonishing 65 million Americans reported a recent episode of back pain. So the chances are, if you treat pain, you will see back pain clients.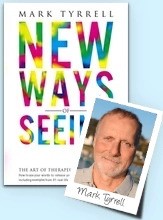 FREE Reframing Book! Just subscribe to my therapy techniques newsletter below.
Download my book on reframing, "New Ways of Seeing", when you subscribe for free email updates
I'm sure I needn't remind you that we need to ensure all our pain clients have been checked out medically before they see us because pain is, of course, a signal that something needs addressing. But once that cause is addressed – or if it's found that there doesn't seem to be a physical cause – then we can help. And we can help clients as an adjunct, too, for any physical help they might be receiving.
Okay, so… why mindfulness for pain?
Changing how the body and mind communicate
I read recently of research finding that mindfulness training can help disentangle the self from the pain.4 Now, people have been using hypnotic techniques such as meditation and mindfulness for centuries to help ease physical pain, but this is the first report I've seen to demonstrate that it works by changing the way pain signals are communicated in the brain.
Specifically, the research team found that brain activity during 20 minutes of mindfulness meditation showed reduced synchronization between the thalamus, a part of the brain that carries incoming information into the brain, and the 'default mode network' of brain regions that interact when the mind is wandering or analysing one's own thoughts rather than focusing on the external reality.
Given that the default mode network is activated when we focus inwardly, it seems to me that it would be instrumental in conferring our sense of self. And if we can stop pain signals from reaching that part of us, or at least reduce them, then it makes sense that we might feel disassociated from the pain and therefore less bothered by it.
The study found that the more the two brain areas were 'decoupled' through repeated mindfulness meditation, the easier it became for the participant to feel comfortable – as tends to be the case with any learning.
Lead author Fadel Zeidan said:
"One of the central tenets of mindfulness is the principle that you are not your experiences. You train yourself to experience thoughts and sensations without attaching your ego or sense of self to them, and we're now finally seeing how this plays out in the brain during the experience of acute pain."
So how exactly can we use mindfulness meditation to help our pain clients?
Mindfulness versus hypnotic dissociation
'Mindfulness' is simply keeping your attention in the present moment, without judging it as happy or sad, good or bad. It is a state of unattached being in which thoughts and feelings are not so much wrestled with, repressed, or defeated, but simply observed and let go of. It is detachment from experience. It means inhabiting the observing self, a term familiar to hypnotherapists, so that thoughts, feelings, and sensations are watched from afar.
Hypnotic detachment (used to treat fears, phobias, and traumas as well as physical pain) is similar to mindfulness but perhaps less passive. We are using this state of detachment dynamically, that is, constructively and to a particular end, to effect a powerful and immediate change. So mindfulness is integral to hypnotic detachment or dissociation.
Let's now look at some of the methods you can use to effect hypnotic detachment.
Hypnotic dynamic detachment
In essence, all hypnotic pain control uses dissociation and mindfulness to lessen the experience of pain.
When we reframe pain as a colour then help the client alter that colour and thereby alter and lessen the pain, we are using a detachment technique dynamically.
When we have a client experience drifting out of their pain-wracked body and seeing themselves from a third-person position, again we are using dissociation dynamically.
If we hypnotically ask a client to reframe pain as a colour or texture then imagine seeing that colour leave their body and drift to the other side of the universethen, again, we are using disassociation quite dynamically.
These are all methods I encourage you to use, as they can significantly ease the burden of pain for some clients.
Mindfulness can happen simply by considering a question
As soon as you ask a client to rate their pain on a scale of 1 to 10 (10 being the most, 1 or 0 being the least), already you have slightly detached them from the pain. They are looking at it rather than just being in it. The same holds, of course, when they describe it as a colour or texture.
As soon as you ask a client to rate their pain on a scale of 1 to 10, already you have slightly detached them from the pain. They are looking at it rather than just being in it.
After reframing Bill's pain, I hypnotized him deeply and simply asked him to observe, "as though a million miles away", the colour of his pain transforming, the sharp (as he described it) texture smoothing over, and the number gradually going down to a 0.
He was then instructed to observe his body as though it were so far away and not essentially who he is.
I set him a couple of tasks, too.
Tasks for pain control
I taught Bill to do for himself what we'd done in the session through self-hypnosis. Whenever he felt like the pain was getting too heightened, he was to:
Reframe it to a colour, number, or texture (or all three)
Focus on breathing calm into his body and 'see' the colour of the discomfort changing, the number going down, and the texture smoothing over.
Imagine observing himself from the outside and noticing himself looking more relaxed and comfortable.
Reawaken feeling refreshed, relaxed, and comfortable.
In addition, I set him a more traditional task of simply taking time in his day to focus externally on aspects of nature in his garden. When we focus outward, we have less attention to focus inward (which is what pain has us do).
After four sessions of mindfulness and hypnotic dynamic detachment therapy, Bill told me he felt "reborn". He was moving around more freely, and the increased activity in turn seemed to help him further. He finally said, "I feel less afraid generally, that's the weird thing. I came for back pain, and now I feel more able to deal with everything!"
Everything is connected, including personal problems. When you ease one aspect of life, other benefits ride along with it.
Relax Your Clients Quickly and Profoundly
Being able to relax any client quickly, no matter their starting emotional state can be indescribably beneficial for them. Not only does it make them feel better right away (and for, at least, the rest of the day), but it shows them they can have control over how they feel. Learn how to relax your clients fast, here.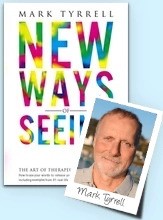 FREE Reframing Book! Just subscribe to my therapy techniques newsletter below.
Download my book on reframing, "New Ways of Seeing", when you subscribe for free email updates
Notes:
Search for more therapy techniques: