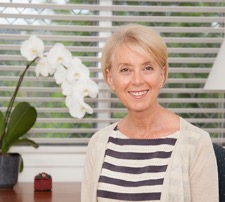 Lee Barnasson is a hypnotherapist, psychotherapist, and TRE – Tension Stress and Trauma Release Practitioner from Kenmore in the leafy western suburbs of Brisbane, Australia.
How long have you been practicing?
I graduated from the University of Melbourne with a degree in psychology and initially worked in training and coaching. I have been a hypnotherapist for 5 years and have recently added TRE – Tension Stress and Trauma Release to my skills.
What is TRE – Tension Stress and Trauma Release?
TRE is a series of simple exercises that activate the body's innate trauma and tension release mechanism, neuro-genic tremoring, which is mediated via the nervous system. This helps return the system to a state of balance. I teach this technique to my clients who can use it to manage stress and maintain balance.
Do you see clients from home or in a clinic?
I really enjoy the flexibility and independence of working from home. I have also worked in clinics and would consider doing that again when the right opportunity presents.
What problems/issues do you treat most frequently?
I see clients for a broad range of issues from stop smoking to trauma related conditions. However, since having added the Rewind Technique to my skills as a TRE Trauma Release practitioner, I'm attracting more clients who have experienced developmental or incident trauma in their lives. Whilst the Rewind releases the memory of the event, TRE activates the body's own trauma/stress release mechanism through the nervous system. These two approaches are a potent combination for change.
What are your biggest frustrations running your practice?
I do get frustrated when clients cancel at short notice, especially if this is a pattern. I send my clients an SMS reminder 48 hours prior to their appointment and am understanding if they need to reschedule. Although this doesn't happen often, I have had instances where a person repeatedly makes an appointment and cancels at the last minute. In this case, the next time they schedule an appointment I ask for pre-payment.
What do you find hardest about your daily work?
I guess like any solo business operator it's juggling the various aspects of the business, writing file notes, marketing, updating the website and social media, and keeping on top of finances. Another aspect that I have found frustrating is accessing quality professional development. I was consistently disappointed with the quality of the online training I signed up for, until I found Uncommon Knowledge. I've done the Rewind and Stop Smoking trainings, both excellent programmes, and am currently subscribed to Uncommon Practitioners TV. I really enjoy watching Mark at work with clients and am now using techniques I learned in my hypnotherapy diploma training but with far more understanding and confidence than before.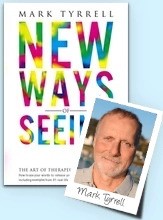 FREE Reframing Book! Just subscribe to my therapy techniques newsletter below.
Download my book on reframing, "New Ways of Seeing", when you subscribe for free email updates
Do you find your professional body supportive and helpful? Do they help you create connections with fellow therapists?
I'm a Clinical member of the Australian Hypnotherapy Association and attend their quarterly practitioner workshops. These are a good way to keep in touch with colleagues and the workshop content is often of interest. I also meet once a month with my peers and really enjoy our stimulating discussions about all aspects of the profession.
What training have you done that has really helped you in your therapy work?
For language and communication skills, I have benefited greatly from training in Internal Relationship Focusing with Ann Weiser Cornell; for an understanding of the nervous system and how to heal through the body, the TRE training has been invaluable; and more recently, I have upgraded my skills with the excellent courses offered by Uncommon Knowledge. The Rewind course in particular has added a whole new dimension to my practice and really increased my confidence in working with clients who present with a history of trauma.
How do you balance work and life?
I do a daily meditation practice, regular yoga classes, and take long walks in nature, preferably places where there are lots of hills (of which there are many, near where I live). I also have close friends who are practitioners and I always get a lot out of our stimulating and wide-ranging conversations.
What frustrates you most about the way mental health is dealt with in your country?
I'm concerned that doctors so readily prescribe medication for emotional/psychological problems, even for children; I've worked with seven-year-olds on a range of prescription medication for anxiety. I would much rather see resources being put into teaching children and their parents resourceful life skills. That being said, I am aware that good work is being in done in many schools in Australia, e.g. mindfulness and meditation classes and bullying awareness programs.
Can you tell us about your most uplifting experience treating a recent client? (anonymously of course!)
My most recent uplifting experience was with a 17-year-old girl who was depressed, self-harming, and had developed an eating disorder. These symptoms had been worsening over more than a year and when she came to see me, she was on four different medications: anti-anxiety, antidepressants, Valium, and high blood pressure medication.
When her mother came to pick her up at the end of the first session, she couldn't believe her eyes – she had her beautiful, smiling, relaxed daughter again. The young lady was able to attend an event she'd been dreading and was stunning. After the second session, she was flying. Her mum keeps in touch and I know that her daughter is now at university doing the course she'd set her heart on and is enjoying her life. It makes me feel good just to recall this story!
To learn more about Lee and her practice, visit her website!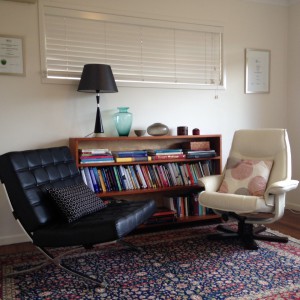 Pictured above: Lee Barnasson's therapy room.
If you would like to be our next Practitioner in Focus, click here and let us know!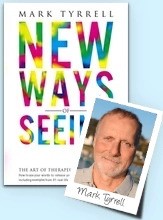 FREE Reframing Book! Just subscribe to my therapy techniques newsletter below.
Download my book on reframing, "New Ways of Seeing", when you subscribe for free email updates
Search for more therapy techniques: