Click the video below to watch it or alternatively you can read the transcription underneath…
Links from the video:
1) The website and online business builder system we recommend (the one my wife used)
2) If you already own a WordPress site, there's a plugin that does exactly the same thing here.
3) The affiliate program that earns the featured website over $2000 a month
Therapist online business video transcription
As a therapist, counsellor, coach or other practitioner, have you ever thought that earning an online income is beyond you? That it's something for 'other people' (or perhaps younger people?)
Well we've discovered something that may change your mind. That should make you realise that this is something you can do, and it should fit with your mission as a therapist too!
At Uncommon Knowledge We've been training practitioners for over 15 years and we know that cashflow can be a problem.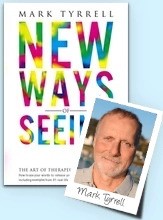 FREE Reframing Book! Just subscribe to my therapy techniques newsletter below.
Download my book on reframing, "New Ways of Seeing", when you subscribe for free email updates
Some weeks you've got too many clients and you just can't see them all, some too few I would guess.
When my business partner Mark Tyrrell and I started out, it was the same for us. Balancing advertising costs with client revenue was a constant struggle, and sometimes clients would just dry up, for no reason we could figure out.
So I want to tell what what we learned about creating income that doesn't dry up.
Income that doesn't need you to put in an hour's work for an hour's pay.
Income that keeps coming in, even when you're somewhere else, thinking about something else.
And of course I'm talking about online business, but a very particular type. What I want to do is show you how you can turn your expertise into revenue, and I'm going to show you exactly how we did that with one site that now earns over $2000 dollars a month through the Hypnosis Downloads affiliate program.
And it does that although we haven't added a single article to the site in over 2 years. That's what I call passive income!
Now you might be thinking "I'm not a hypnotherapist", "I can't sell people hypnosis". Well actually, the site I'm going to tell you about isn't about hypnosis at all.
It's just about problems, and no matter what kind of practitioner you are, you know about peoples' problems. And you know how to use your own particular approach to help them.
And this tells you something very profound about selling online. People are looking for advisors they can trust. And when they find one – even if it's just one article – then they will take a recommendation to buy something that will help them.
And I'd like to let you into a secret. One that gives you a massive advantage over everyone else trying to sell things online.
You see, have you noticed how often online marketers use time pressure to try to get you to buy? You know, offer ends tomorrow, only 7 spaces left, that sort of thing?
That's because marketers the world over know that people will put off making that purchase forever unless they are given a very good reason to do it now.
But as practitioners, we don't need to worry about that. Because our clients have the strongest motivation in the world to get whatever it is fixed, NOW!
Which of course is why it's such a satisfying job – because you can help people with life issues that are painfully important to them. Things which are making life difficult every day.
And I'm telling you this because it's easy to get discouraged. To think "everyone else is trying to make money online, there's no way I can compete". What I'm saying is, you don't have to.
You're not trying to make $100,000 a month here. And you're not trying to sell high competition items. You are simply going to help people. And the money will come as a side effect of that.
Now you may not know our products yet, you may not know about our hypnotherapy training company Uncommon Knowledge; that we've been training professional therapists since 1998, or that every script on Hypnosis Downloads.com is crafted by a team of 4 experienced hypnotherapists.
We pour our hearts into those sessions because they represent everything we stand for – giving people rapid, reliable help in their moment of need.
We started out as therapists, struggling to make ends meet, and now our websites earn us 7 figures every year, and are visited by over 10 million people.
We think we can help you establish a steady passive income stream of your own because it's such a shame when people who are motivated to help others have to stop doing that because of the pressures of money.
But you can check us out by taking a look round hypnosis downloads.com or unk.com – I just wanted to give you a quick overview because if there's one thing I know about practitioners, it's that they care about their patients, and want to make sure they give them the best help available.
OK, so what is this incredible website that has around 100 articles on it, that at the time of recording this video hasn't been touched since October 6th, 2011 and earns over $2000 a month through the Hypnosis Downloads.com affiliate program?
It's this site here: www.uncommonhelp.me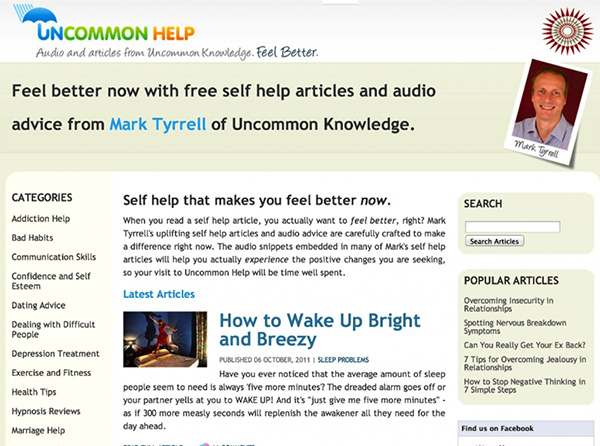 You'll see at the top of the last article published, the publication date I was talking about – October 6th, 2011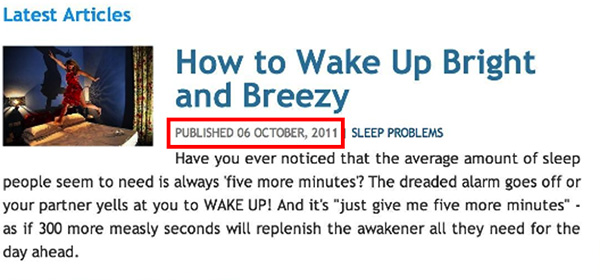 And during that time, look at what has happened to the website's traffic: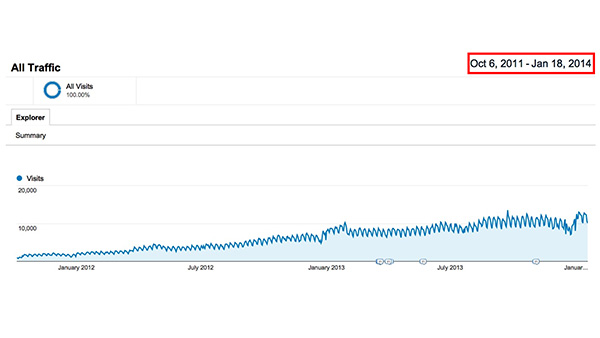 So you can see the time period here – nearly 2 years since the last article was added – as I mentioned before, at that time we stopped working on the site at all. You can see that the traffic has grown from around 1000 visits a day to nearly 12,000 visits a day.
And during that period, here is the revenue Uncommonhelp.Me drove through Hypnosis Downloads: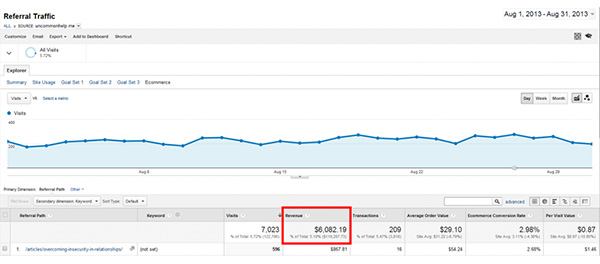 You can see here in August 2013 it drove over $6000 of revenue, which through our affiliate program would earn you over $2000 in a month.
So how does UncommonHelp drive so much revenue to Hypnosis Downloads? Well it's really simple actually – take a look at this page: Overcoming Insecurity in Relationships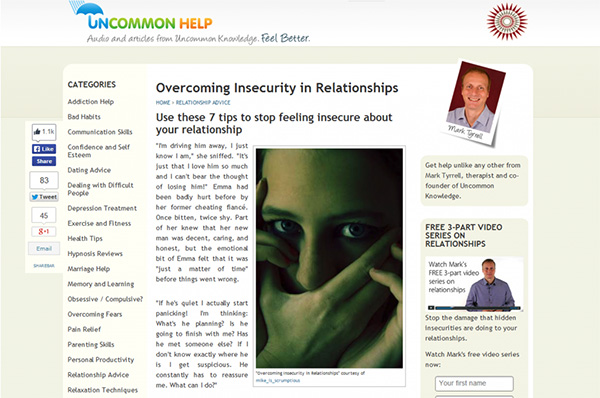 You can see here the article itself, it's really helpful content. The search engines know what it's about and when people search on things like 'insecurity in relationships', this article comes up high in Google: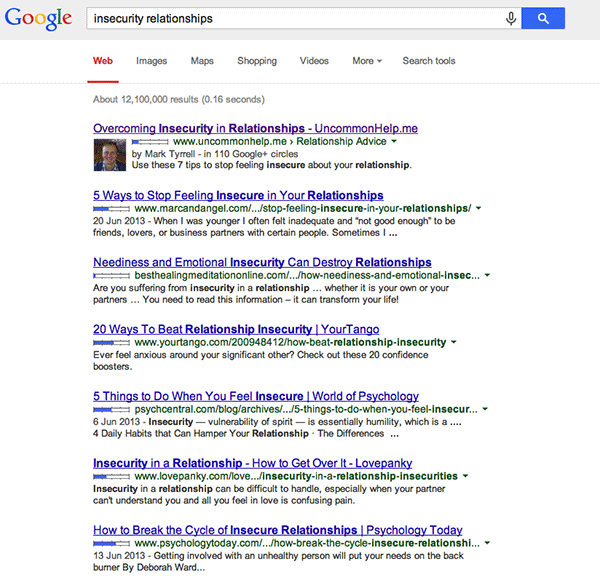 And here, at the bottom of the article, you can see the big clear link to a related product on Hypnosis Downloads – our $147 program – 10 Steps to overcome insecurity in relationships.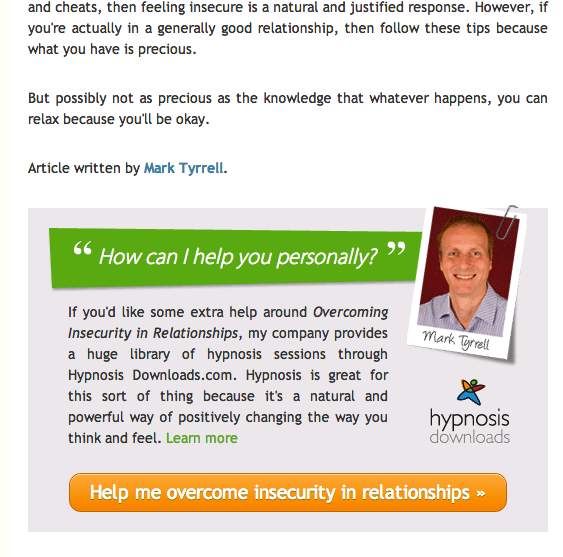 Clearly a lot of people found the article so helpful that they trust who wrote it, and are happy to take a recommendation from the author.
And this is not just because it's Mark writing the articles – we have many affiliates who use a similar approach. You can see here that this article alone made 867 dollars in a month: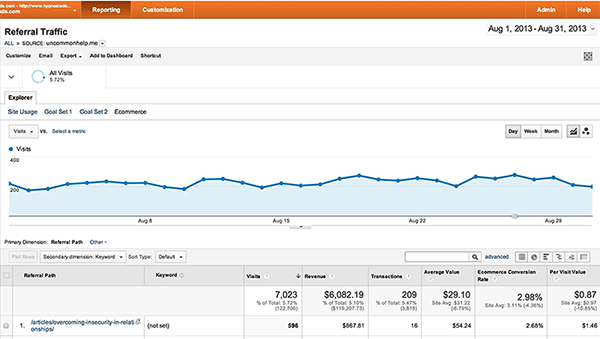 It's ALL about being helpful
So I have to make one thing absolutely clear. All of this, the success in the search engines, the excellent conversion rates to making money on Hypnosis Downloads is all down to one thing: it's that the article is really helpful.
Look at the comments on the page – people love it. And when they love something, these days, people share it and link to it. And the search engines know this, which is why the article starts to appear higher and higher in the search results, and why it gets more and more visits. It really is all about being helpful.
So why didn't we keep working on the website?
And you might be wondering why on earth we just let the site sit there. Well, although we had other projects to work on, the main problem was that the site's software broke so badly that we couldn't even edit an article to fix a typo. Even our tech team was stumped.
We got frustrated about it for a few weeks, and then as tends to happen with unsolvable problems, the thing just dropped off the radar.
How to make sure tech troubles don't stop you in your tracks too
It does highlight one vital point though – as a practitioner you don't want to be spending time dealing with tech issues, building websites, managing email lists and all that brain-numbing, passion-killing stuff.
Not to mention what happens when something goes wrong like it did with Help.Me But I'll talk about how you can avoid this ever happening to you a little later.
So I want to tell you how we did this. How we chose the content for the site, how we created it, how we promoted it and how we made money from it.
The (easy) plan that made it all work
If it was easy, everyone would be doing it, wouldn't they?
Well yes, and no.
The success of Uncommonhelp.Me is not a mistake. The original articles were carefully planned so that when they became popular, we knew we could drive revenue from them.
We chose them to correspond to the products we had on Hypnosis Downloads.com at the time.
5 steps to a successful website
Here's how you do that:
Choose the product that you want to link to from your article
Find the search keywords people are searching on related to that product – this is easy to do, I'll show you how shortly
Choose the search keyphrase that has the lowest competition combined with the highest number of searches
Write the article around that keyphrase
And repeat!
The thing is, once you've done this, your site is literally on autopilot. As long as you choose the right things to write about, then all you need is search engines to start ranking your articles.
Again, it sounds easy, but there are tens of thousands of people out there trying to make a living online and failing miserably. So how can you do it?
Well I've been running websites since 1999, and I've made all the mistakes that can be made. And so I know the two main reasons why people don't make it online, and these are:
Lack of a plan
Lack of focus on that plan
So I've shown you the plan, so we need to tackle 2. Luckily, the reason people fail to focus in most cases, is totally clear: They get bogged down with the technology.
Creating a website without destroying your soul
To make it online these days, you need an easily undated website, an email host to handle your email list, support for social networks, a comments system, a way to discover what keyphrases to target, analytics to track your visitors, and on and on and on.
No wonder people get distracted!
We created HelpMe by writing one article per week. That's all.
But we did it every week.
That's what you have to be able to focus on – writing to your visitor. And if you're worried about that, don't be, there are ways to make it much, much easier.
But it still has to be you. Without that you lose the authenticity, which loses you trust, and trust is vital if you're going to help people.
Let me tell you a quick story that will solve all these problems for you and enable you to create a website easily, with everything you need, even if you barely know how to turn on a computer.
How my wife went from tech-terrified to online entrepreneur – rapidly!
Back in 2004, my wife Lyndsay and I moved to Oban on the West Coast of Scotland, where we wanted to start a family.
I was running Uncommon Knowledge with my business partner Mark Tyrrell, and Lyndsay did some work for the company, but Lyndsay had come from a successful career with blue chip companies like American Express and Diageo. She needed a challenge.
So she decided she was going to build a website, despite never having done anything online before. But she didn't want to get bogged down in the technical details, she just wanted to write – in this case about management, which she had quite a bit of experience of.
Luckily, I had been using an amazing web business system that would allow her to do just that. This system taught me everything I knew about making money online and so she started her site – Management for the rest of us.
She did just what I've described – she started writing an article a week, let the system take care of all the techie stuff, and within a year she had a nice little site rocking along. Unfortunately we don't have the traffic data for the earliest days of the site but you can see how it's doing in 2007/2008:

Now you might be thinking that I had something to do with this, but that's because you don't know my wife ;-)
Of course, if asked a question I'd give her my thoughts, but she's a pretty independant woman and likes to get on and do things for herself.
So within a year she was making a reasonable extra income, and within 2 a decent salary from the site, at the time using Adsense, which is another easy way to make money from your site.
So what is this amazing system?
Well before I tell you, I want to make you an offer. Firstly, you should know that I am recommending this because it is the best way to build a website that works, bar none.
When people write to me to ask how to learn to build an effective website, as they often do, this is what I recommend.
But of course, if you buy it through me, I earn a commission.
If you decide to do so, I will give you a list of the keyphrases to build your articles around which will give you the best revenue on the Hypnosis Downloads affiliate program.
In addition to that, when you earn your first commissions through your site, I'll add $25 to your first commission check. All you need to do is forward your receipt when you order and we'll send your keyphrases right back.
The system is called Site Build It, and it has more features to it than I can possibly begin to explain. But the best thing about it is that it cuts out all the confusion, all the noise of the usual online marketing nightmare, and there's a community in there who are genuinely interested in helping you succeed.
It really is like a big family in there – in 15 years doing business online I've never come across anywhere on the web that is as supportive and helpful.
So if you would like a little extra income on the side to carry you through the leaner times, to add some breathing space to your cashflow, here's where you can read more about the system I recommend
Oh, and I should have said, you can get more clients through your SBI website too :-)
Here's a quote from right off that page: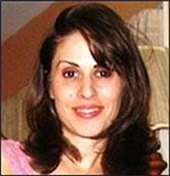 Kristen Mcclure, Therapist
I have only just begun building my site but am so excited! To make a long story short, yesterday I received three referrals from people in my area who had found me through my website. These three clients were higher paying clients, the kind of clients I want to attract.
My clients love my website! I can point them to different pages that are relevant for their situation. I love writing new information to help the clients and parents I work with.
So there you go, I hope I've convinced you to take a look at this. It really is possible for you to create something that you are proud of, that helps people, and that gives you that financial freedom to really do what you love.
The website builder system we recommend (the one my wife used)
If you already own a WordPress site, there's a plugin that does exactly the same thing here.
The affiliate program that earns the featured website over $2000 a month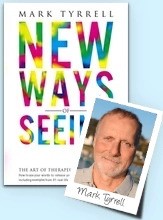 FREE Reframing Book! Just subscribe to my therapy techniques newsletter below.
Download my book on reframing, "New Ways of Seeing", when you subscribe for free email updates
Search for more therapy techniques: